Cost of wars in Iraq and Afghanistan tops £20bn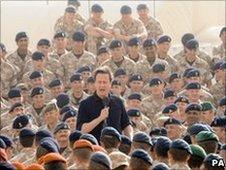 The cost of fighting and reconstruction in Iraq and Afghanistan has passed £20bn, UK government figures show.
Of that, £18bn was spent on military operations, on top of the defence budget, while hundreds of millions went on aid and security for UK officials.
The final cost, which does not include troops' salaries or care for the wounded, is expected to be much higher.
Critics questioned why the UK was spending so much on conflict when public finances were in a dire state.
Britain spent at least £9.24bn in Iraq and £11.1bn in Afghanistan between April 2001 and March 2010, the figures show.
Costs were shared between the Treasury, the Department for International Development and the Foreign and Commonwealth Office.
Ten thousand British troops are still stationed in Afghanistan, meaning the total cost will continue to rise.
Professor Malcolm Chalmers, a defence analyst for the Royal United Services Institute, said about 30% of the UK's defence budget went on operations in Afghanistan.
"They have been long and sustained operations in difficult geographical locations with often quite determined enemies.
"Simply maintaining thousands of people in such a location takes a lot of money on logistics before you have even started."
He said the Treasury would be looking closely at expenditure on the military missions.
He suggested an influx of 20,000 US marines into Helmand Province, southern Afghanistan, would allow the UK to concentrate its forces in the centre of the province, reducing the cost of maintaining remote bases.
In March, former Chancellor Alistair Darling said he had set aside £4bn of the 2010-11 Treasury reserve for military operations in Afghanistan. The FCO put aside £118m for this financial year.
On Tuesday, Chancellor George Osborne is due to outline spending plans in his emergency Budget.
Former London mayor Ken Livingstone said: "The true cost of our policy of international adventures is now being shown - £20bn is 10 times the amount it would cost to scrap student fees in England, for example."
Lindsey German, convener of the Stop the War Coalition, said: "People will be astonished that the government had the cheek to call for public spending cuts when such an obscene amount has been spent in Iraq and Afghanistan."
A demonstration outside Downing Street calling for British troops' withdrawal from Afghanistan is expected to be staged on Tuesday, the day of the emergency Budget.
Bob Crow, general secretary of the Rail Maritime and Transport Union, insisted ministers should not cut jobs while the conflict dominated spending priorities.
"The money that's been drained away on illegal war-mongering is only outstripped by the cash ripped off in the bankers bail-out," he added.
Related Internet Links
The BBC is not responsible for the content of external sites.