Division in Rwanda's military ranks
By Martin Plaut
Africa analyst, BBC News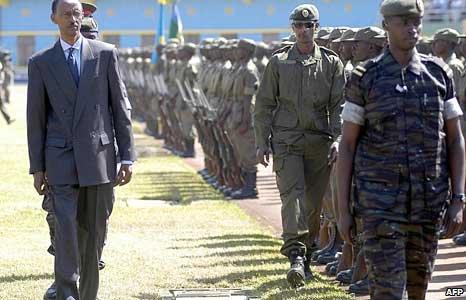 In the tough world of Rwandan politics, there is little give and take.
President Paul Kagame, despite having an excellent reputation in the international community, tolerates little opposition.
A former rebel leader, he led the Rwanda Patriotic Front to power in 1994, putting a stop to the genocide in which an estimated 800,000 Tutsis and moderate Hutus were killed.
Sixteen years on, the country is in the run-up to an election in August, yet there are few openings for independent politics.
Victoire Ingabire, the head of the United Democratic Front, was arrested after returning to Rwanda in January 2010, and is currently on bail.
But the worst tensions appear to be in the once solidly loyal Rwandan army - many of whom fought alongside President Kagame to end the genocide.
Lieutenant General Faustin Kayumba Nyamwasa - a one-time army chief of staff turned diplomat whose wife says has just been the targeted for assassination - fled into exile in February this year after being accused of being behind grenade attacks in Kigali.
He went to Uganda, where a car was waiting to pick him up, to allow him to fly to South Africa.
There he joined the former head of external military intelligence, Patrick Karegeya.
The two men became a focus for the president's critics.
They began attacking his reputation for probity - accusing President Kagame of using front companies to disguise various holdings around the world. The Rwandan government strongly denied the allegations.
President Kagame threatened to crack down on their activities.
Lt Gen Nyamwasa felt increasingly under threat.
"After my departure, President Kagame addressed a press conference where he labelled Patrick Karegeya and I as 'terrorists'," he said in a statement.
"While passing out cadet officers in Gako, he called us 'thieves'.
"In parliament he called us 'flies' whom he will crush with a hammer; with [the magazine] Jeune Afrique he called me a 'traitor'."
But Lt Gen Nyamwasa and Mr Karegeya were not the only army dissidents.
A number of senior military officers are currently under detention or house arrest in Rwanda.
Following a shake-up of the top military leadership in April, President Kagame ordered the arrest of Lt Gen Charles Muhire and Maj Gen Emmanuel Karenzi Karake.
They were respectively accused of corruption and immoral conduct.
Like Nyamwasa, Lt Gen Muhire was amongst the most senior military officers until dropped by the president.
And more recently the head of Rwanda's Football Federation, Brig-Gen Jean Bosco Kazura, has been arrested for travelling to the World Cup in South Africa.
An army spokesperson said as he was also a soldier, the football official needed permission to leave the country.
He denied it had anything to do with the football chief contacting the two Rwandan exiles on his arrival in South Africa.
Rwanda's Foreign Minister Louise Mushikiwabo says, however, these arrests have nothing to do with politics.
"There's nothing unusual at all about the actions taken against some of these top officers in the Rwandan defence forces," she told the BBC.
"Some are accused of indiscipline, insubordination, some are accused of some level of corruption and so this is a government and an army that demands the highest level of accountability and that's what this is all about."
So exactly how deep these divisions are within the military, and whether they will lead to further unrest is difficult to tell.
But with its troubled past, the role of the army in Rwandan politics should not be underestimated.
Related Internet Links
The BBC is not responsible for the content of external sites.