MPs back Sheffield Forgemasters petition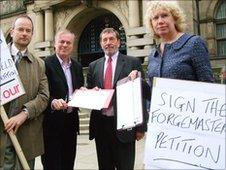 Four Labour MPs have started a petition calling on the government to reinstate an £80m loan to Sheffield Forgemasters.
The engineering firm has been told it will not get the money to buy equipment needed for the nuclear power market.
Paul Blomfield (Sheffield Central), David Blunkett (Sheffield Brightside), Clive Betts (Sheffield SE) and Meg Munn (Sheffield Heeley) back the petition.
It urges ministers "to rethink their decision... which will cost the city jobs and economic growth".
On Saturday they collected more than 1,300 signatures in Sheffield city centre and plan to launch the petition online from Monday.
The previous Labour administration had negotiated the £80m loan to enable the company to build parts for nuclear power stations.
About 200 jobs would have been created, but the loan was cancelled on Thursday as part of a package of spending cuts designed to save £2bn.
Unveiling the petition, Mr Blomfield said: "We are trying to persuade the government even at this late stage to reconsider what is a very short-sighted and damaging decision for Sheffield and manufacturing industry."
He said the Labour government had agreed the loan deal after lengthy discussions and "the idea that this was some last-minute election bribe is just nonsense".
Mr Blomfield said Forgemasters had committed a lot of resources into securing the deal.
"At the end of the day it was a loan which would have been repaid at a good rate of interest to the taxpayer and created hundreds of jobs," he added.
He said the petition had been organised because "there is such anger on the streets of Sheffield and we have to make the voice of Sheffield people heard".
Related Internet Links
The BBC is not responsible for the content of external sites.