Afghanistan peace conundrum flummoxes mediators
By Lyse Doucet
BBC News, Oslo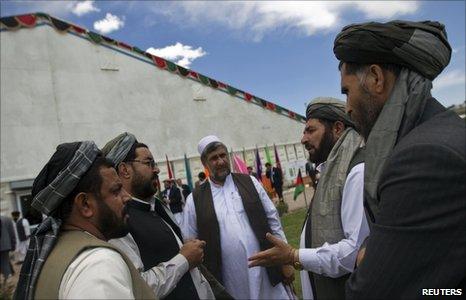 A war that has dragged on for 31 years has many epithets.
Many a book has been titled "Afghanistan's tragedy". This month it became "America's longest war".
"A master class of complexity" was the phrase that came to mind for mediator Martin Griffiths, who heads the Geneva-based Centre for Humanitarian Dialogue (HD Centre).
For the past eight years, the HD Centre and the Norwegian government have hosted the Oslo forum, an annual gathering which brings together mediators, special envoys and government officials to discuss conflict resolution around the world.
Now that "no military solution" and "talking to the Taliban" have become new mantras in the long-running Afghan war, it is concentrating mediators' minds on how to bring warring sides to peace there.
"It has all the classic conundrums for mediators... in spades," reflected Mr Griffiths. "There's every challenge from who do you talk to, how do you involve neighbours, deal with spoilers, bring justice and establish a road map for a sustainable peace."
"There will have to be multi-track, multi-level talks," said one participant at a well-attended session on Afghanistan at the forum. All discussions were under the so-called Chatham House Rule, ie not for attribution.
Mediators big and small would clearly relish the challenge to "do Afghanistan".
The risks and dangers are also clear. And Taliban intentions are not.
There have been secret contacts and channels in recent years but no real progress.
"Their message came to us in rockets," pointed out Fatima Gailani, who heads the Afghan Red Crescent Society.
Her remark alluded to Taliban attacks on a recent national "peace jirga" in Kabul which called for talks with all Afghan armed opposition groups.
The peace jirga also called on Muslim countries like Saudi Arabia and Turkey to help.
Saudi Arabia, home of Islam's two holiest sites, has been involved for decades in frustrating efforts to help resolve the Afghan conflict.
There is a Saudi sense of "been there, done that, haven't succeeded", said one long-time observer.
The former ambassador and intelligence chief, Prince Turki al-Faisal, who attended the forum, was personally involved in unsuccessful efforts to unite intransigent Afghan factions in 1993.
"We are ready to help, but have set conditions," said Prince Turki, who says he no longer has an official role in the Gulf kingdom.
Turkish Foreign Minister Ahmet Davutoglu, who spoke at the opening session, was brimming with the confidence of a relative newcomer to the mediators' club.
In recent years, Ankara has been intervening in crises across the Middle East.
Speaking after the session, Mr Davutoglu said: "Sometimes you need countries who are far away from the conflict, and sometimes you need countries who are near."
Norway has long been an example of the "far-away" neutral mediator. Dialogue is ingrained in its diplomacy.
Its most famous intervention was the secret peace talks which led to the Oslo Accords between Israel's government and Palestine Liberation Organisation (PLO) in 1993.
Explaining the success of the Oslo process, Norway's Foreign Minister, Jonas Gahr Store, said in an interview that "the right people, right place, and right time resulted in extraordinary diplomacy".
Mr Store takes a keen interest in the file on Afghanistan, where Norway has some 500 troops.
He was at the Serena Hotel in Kabul in January 2008 when it came under attack. Six people were killed, including a Norwegian journalist.
With so many countries and so many interests involved in a conflict which affects the entire region and beyond, the United Nations is positioning itself to play some kind of role.
The new UN Special Representative for Iraq, Staffan de Mistura, said it was "time to talk". Asked what the first task must be, he replied: "Establish a big vision."
Even that is daunting - there is still little clarity on the road ahead and where it must lead.
Despite the resounding call from the Peace Jirga, Afghans remain divided about reaching out to armed opposition groups which left an indelible mark on their country's brutal history.
There are now signs that Pakistan, long regarded as a sanctuary for Taliban leaders and fighters, is also determined to play a leading role.
It is anxious to ensure its own strategic interests are met, most of all vis-a-vis its long-standing rivalry with India, which also plays out in Afghanistan.
And for any real process to start, it is widely recognised that the biggest player, the United States, must become more engaged on this front.
Even the Taliban, who repeatedly call for the withdrawal of foreign troops before any talking can start, has indicated it has to talk to the power that matters.
"It's absolutely essential that the Americans talk to the Taliban as soon as possible," insisted the Pakistani author and journalist, Ahmed Rashid.
"The longer you delay this, the greater the risk it will lead to some kind of panic decision and the results could be awful."
Like most outside parties, Washington emphasises this must be an Afghan-led, and Afghan-owned process.
Top US military commanders express scepticism that senior Taliban leaders still linked to al-Qaeda want to talk. Nato forces are instead focusing on stepping up the military pressure in the months ahead.
"Everyone understands there is no military solution," remarked one participant at the Oslo forum with long experience in Afghanistan, "but no-one understands what the non-military solution is."
Related Internet Links
The BBC is not responsible for the content of external sites.