Japan accused of using aid to get support for whaling
By Roland Buerk
BBC News, Tokyo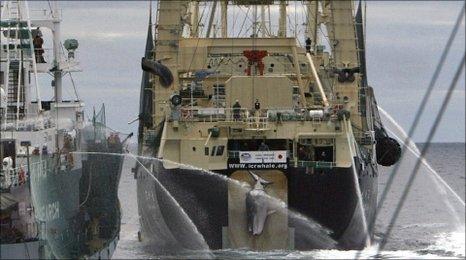 Japan used aid money to persuade developing countries to support its whaling, according to a whistleblower who has spoken to the BBC.
The man, who went first to Greenpeace, worked for a private company which implemented development projects on behalf of the Japanese government.
His allegations come on the eve of the International Whaling Commission (IWC) meeting in Morocco.
For 18 years Mr A - as he wants to be known - travelled the developing world for a private Japanese company.
His job was to arrange projects such as new harbours that would be paid for by Japan's overseas aid budget.
Japan has long denied buying support for its stance on whaling.
But Mr A told the BBC that during negotiations the make-or-break question was whether the country would side with Tokyo at the IWC.
"If the answer is affirmative, saying yes, or more or less affirmative, then we start talking about the project. Helping them to build up their fisheries industries," Mr A said.
However this was not always the response.
There were "a couple of countries where I received quite explicit answer or reply, saying No. Like Ghana, Nigeria and Tanzania, and other countries in African continent," Mr A said.
"In that case I said simply thank you very much and I went away."
There was then no question of a fisheries grant being given, he said.
Mr A went first to Greenpeace to make his allegations.
He said he was disgusted that many of the development projects he spent his career working on were a waste of Japanese taxpayers' money.
Mr A has chosen to speak out on the eve of the International Whaling Commission's meeting in Morocco.
At the moment Japan justifies its hunts as scientific research, while not hiding the fact that whale meat ends up on dinner plates.
The IWC will debate a proposal to end the ban on commercial whaling that has been in place since 1986 in return for whaling nations agreeing to smaller quotas.
Masayuki Komatsu, Japan's chief negotiator until 2004, says his country should "simply dump" the proposal in the rubbish bin.
Mr Komatsu, the author of several books about whaling, says there are "plenty" of whale resources and Japan should not be asked to cut its quota.
Asked whether Japan had been linking its aid to the whaling issue, he said he had advocated that Japanese aid should officially be linked to whaling issues "as a matter of sustainable principle".
However, he said that while many politicians shared his views, they were not fully addressed and "regrettably" Japan's policy was of delinking aid.
Japan it has acknowledged that it has invested heavily in the fishing industries of some smaller countries on the IWC.
Their votes will be critical in Morocco.
Related Internet Links
The BBC is not responsible for the content of external sites.