Government spends £17,500 on wine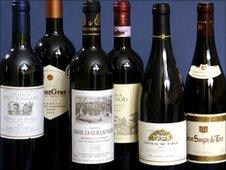 More than £17,500 has been spent topping up the government wine cellar since the election, it has emerged.
It brings the total value of fine wine stored for VIP functions to £864,000, a Commons answer by Foreign Office minister Henry Bellingham revealed.
Labour's Tom Watson said the Tory-Lib Dem coalition should sell the wine to boost the public finances, quoting Tory slogan "we're all in this together".
The government says it buys wine young to ensure the best value for taxpayers.
Last year, Liberal Democrat MP Don Foster accused the then Labour government of "living way beyond their means" after ministers revealed 39,500 bottles of wine, spirits and liqueurs worth around £792,000 were in storage.
Conservative MP Mr Bellingham's written answer revealed that Government Hospitality (GH), the branch of the Foreign Office which manages the cellar, had spent £17,698 on new stock since 6 May.
On the advice of its committee for the purchase of wine, GH usually buys stock two or three times during the year at below the market rate, he said.
"GH buys wines young, when first available in the retail market and relatively less expensive, and stores them until they are ready to use.
"It purchases throughout the year according to its requirements, market rates, availability and value for money.
None of the latest batch has yet been used, Mr Bellingham said, adding that wines from the cellar had only been served at one function since the coalition took office - a dinner for the British-American Business Council on 13 May.
The minister also said a total of £80,662 had been spent on new stock in 2009-10, a 30% reduction on the previous year.
Public sector pay and pensions are set to be squeezed in Tuesday's Budget, as ministers seek further spending cuts to deal with the £156bn annual deficit.
Former Cabinet Office minister Tom Watson, who represents West Bromwich East, criticised the "arcane organisation" which advises on the cellar.
Through a series of parliamentary questions and Freedom of Information requests, he was told the cellar featured high-profile wines from the likes of Chateau Latour, Chateau Lafite, Chateau Margaux and Chateau Mouton Rothschild.
His attempts to find out exactly what vintages were held to be served at departmental banquets were blocked on commercial sensitivity grounds but he believes some could be worth up to £650.
"Even under the Labour government, it proved difficult to establish where political and financial accountability lay for this tiny unit of the Foreign Office," he said.
"Every three months or so, a small group of former civil servants dip into the cellar to see if the burgundies are ready for ministers to entertain their foreign guests at sumptuous banquets at Lancaster House.
"The coalition government says we are all in this together. A one-litre Merlot wine box at Asda costs £10. They know what they have to do. They should sell the government wine cellar."
Related Internet Links
The BBC is not responsible for the content of external sites.