Science graves dedication service at Arnos Vale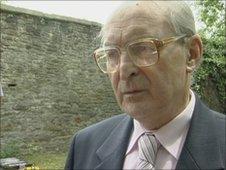 A special service in honour of more than 200 people who donated their bodies to medical science in the 1960s and 1970s has been held.
A previously hidden large unmarked grave, at Bristol's Arnos Vale Cemetery, had been neglected and used as a rubbish dump for years.
It was recently discovered and volunteers worked to clear the area.
A plaque was unveiled earlier to commemorate the deceased.
Edward Finch Peck, who died in 1971, was one of the people buried there.
His son Rab Peck, from Cornwall, spent eight years searching for the site of his father's burial, and unveiled the plaque earlier.
Following a phone call from Mr Peck, cemetery services officer Sue Mackenzie pinned the location down to plot C905, which was not marked on any maps.
Paul James, a monumental mason who buried the bodies in the 1960s, led her to the spot, and made the plaque which now graces the burial site.
'Thoughtless and cavalier'
Mr Peck said: "Today is really, 39 years after he died, coming to say 'hello Dad' and wishing him bon voyage."
He described Bristol Medical School, which had dealt with his father's body, as "thoughtless and cavalier".
He said: "The fact that there was no recognition of the individual people in this grave, really at the time I was very cross and I wrote a very strongly worded letter to the Bristol Medical School.
"I know it was water under the bridge, but I was simply making the point that I felt they had behaved very, very poorly but hopefully that would not occur now."
Dr Jon Wakerley, head of the department of anatomy at Bristol University, said: "The arrangement at that time was that the university or the department had an arrangement with one or probably several funeral directors and at the end of the usage of the body, that body would be handed over to the funeral director for respectful disposal. That was part of the arrangement.
"The university would probably not really have been aware of where exactly those bodies would have been taken to.
"As far as the university was concerned, there was nothing here that was illegal, that was the normal arrangement at that time."
More than 300,000 people are thought to be buried at the Victorian Arnos Vale Cemetery, which opened in 1839.
Related Internet Links
The BBC is not responsible for the content of external sites.