UK firms shut French stores as 'booze cruise' declines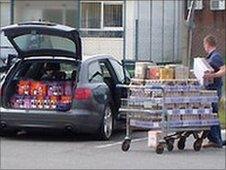 The appeal of the "booze cruise" looks to be fading, with Tesco becoming the third UK store to close its Calais branch in recent months.
The strength of the euro against the pound is being blamed for the decline, according to The Grocer magazine.
Lower alcohol prices in the UK also mean Britons no longer need to travel to France to stock up cheaply.
Sainsbury's will close its Calais branch on 30 June, while Oddbins Calais shut earlier this year.
Several factors encouraged the growth of the booze cruise, including lower rates of alcohol duty on the continent and the availability of cheap ferry travel.
There is also no restriction on the amount of alcohol that can be brought back to the UK from France for personal consumption.
But the weak pound and the recession have made unessential travel less appealing and persuaded supermarkets in the UK to drop their prices.
'Not economically viable'
Tesco has operated its Vins Plus store in Calais for 15 years but now, according to The Grocer, it says it expects to close after consultations with staff.
Oddbins Calais closed earlier this year and the company confirmed its franchise agreement had come to an end.
A spokesman for Sainsbury's said its joint venture with French retailer Auchan was no longer "economically viable".
"Sainsbury's and Auchan have made the difficult decision to close Sainsbury's Calais," he said.
"Thirteen colleagues have been informed that their jobs are at risk and will be offered redeployment opportunities by the two co-shareholders."
Sainsbury's is advising consumers to call before heading to the Calais outlet and has cancelled all online pre-ordering because stock is limited.
Ronan Hegarty, from The Grocer, told the BBC that the booze cruise was no longer worth the effort for the average British consumer.
"For real wine enthusiasts who really know their stuff then it might be worth getting over there, but for the vast majority of people, what they're offering here is good enough and cheap enough."
He said that possible plans to impose a minimum price per unit of alcohol could, however, prompt a resurgence in the booze cruise.
A fourth company, Majestic Wine, says it has seen a 28% fall in sales for the year to the end of March in its three northern France stores.
But it says it will continue to operate on the continent because lower alcohol duty means it remains worthwhile.
Related Internet Links
The BBC is not responsible for the content of external sites.