Ten Turkish soldiers killed in 'PKK raid'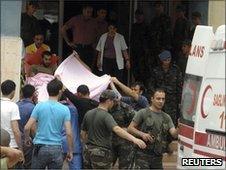 Ten Turkish soldiers have been killed in an attack by Kurdish rebels near the Iraqi border, Turkey's military says.
Members of the banned Kurdish Workers Party (PKK) launched an overnight raid on an outpost near the city of Semdinli in Hakkari province, officials said.
Twelve rebels were killed in subsequent clashes, they added. Turkish aircraft have also bombed PKK positions in Iraq.
Fighting has increased drastically in recent months, as the government's peace initiative has collapsed.
The PKK launched an armed struggle against the Turkish government in 1984, calling for a Kurdish homeland within Turkey. More than 40,000 people have been killed in the resulting conflict.
The Turkish General Staff said in a statement that "a group of terrorists" had touched off the fighting by attacking a division on duty near the border at 0200 on Saturday (2300 GMT on Friday).
"Reinforcements were sent to the region and throughout the night support was provided to the conflict zone by attack helicopters and artillery. Separately, the air force struck targets identified in the northern region of Iraq."
"According to initial findings, 12 terrorists were neutralised in the clashes."
Ankara has urged Iraq's Kurdistan Regional Government (KRG) to expel the 2,000 PKK fighters believed to be based on its territory, saying it must promote efforts to curb the banned group's activities.
The military announced on Friday that more than 130 rebel fighters had been killed in air raids and incursions in northern Iraq since the beginning of May. It added that 43 members of the Turkish security forces had also died.
On Wednesday, Turkish troops crossed into northern Iraq and killed four PKK fighters after the group made an unsuccessful attack on a border guard outpost.
Friday's attack was the deadliest for the Turkish military since April 2009, when nine soldiers were killed by a roadside bomb in Diyarbakir province that was blamed on the PKK.
Last month, the imprisoned PKK leader, Abdullah Ocalan, stated that he had given up any hope of dialogue with the government.
However, the BBC's Jonathan Head in Istanbul says the clashes had begun well before that, and the real reasons for this sudden resurgence of fighting are not clear.
Last year, the Turkish government announced a new initiative to end the conflict and to address the grievances of the Kurdish minority, but it never produced the promised package of measures, and now appears to have abandoned the initiative, our correspondent says.
Nationalist sentiment runs high in Turkey and is very hostile to the idea of negotiating with the PKK, which is officially branded a terrorist organisation by the United States and European Union, he adds.