Honour for major who led capture of German port in WWII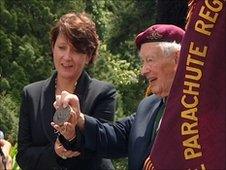 A British World War II veteran who led a team of Commandos that seized a key German port, allowing the Allies to then secure Denmark, has been honoured.
Germany has bestowed the Great Seal of Kiel on Maj Tony Hibbert, who lives in Cornwall, for leading the 500-strong team in capturing the port of Kiel.
In May 1945, Operation Eclipse led to the surrender of a large German garrison and all the Nazis in Denmark.
The award is for his role in preventing Kiel from falling into Soviet hands.
The award was presented to Maj Hibbert at his home by the Honorary Consul for Germany in Devon and Cornwall, Angela Spatz, who said it was a "great pleasure" to present the award on behalf of the citizens of Kiel.
She said: "He certainly saved many lives on both sides."
Maj Hibbert, 92, said of receiving the seal: "It's one of the most important things in my life."
"I gather I am the first Englishman to receive it, and the fact that I've received it for when I was fighting an action in the war against the Germans, I think it means so much."
He added: "Any of us who fought through five years of war were only too pleased get the peace going.
"I never expected any particular thank you from them, so this is beyond belief. It means a lot."
He added that he was on crutches at the time of the action because he had suffered an injury while fighting in Arnhem.
Operation Eclipse's success meant the Western Allies captured a swathe of Germany's Baltic coast as the Soviet Union marched on central Europe.
It involved Maj Hibbert's team operating deep behind enemy lines to seize the port, which then forced the surrender of the far larger garrison.
Earlier in the war, the Military Cross holder, who calls himself "The Maverick Major", had been evacuated from Dunkirk.
Related Internet Links
The BBC is not responsible for the content of external sites.