Cuts 'threaten' South West transport infrastructure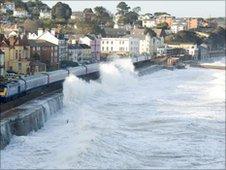 The current economic difficulties in the UK threaten planned projects to improve the transport infrastructure in Devon and Cornwall, a report has said.
The Institution of Civil Engineers (ICE) has categorised the region's infrastructure as "at risk".
Severe weather and congestion on major routes can "effectively cut off Devon and Cornwall", it said.
The report will be used to lobby for an independent assessment to highlight weak points in the UK network.
Nick Lyness, ICE chairman, told BBC News: "We know the South West has particular issues.
"It's a long, thin peninsula and the rail system and the motorway network system is quite fragile.
"What we're looking for is recognition that it needs some long-term strategic investment."
Thousands of motorists were stranded on the main trunk road in and out of the South West in January when heavy snow made the A30 impassable, leading to miles of queues.
And in March Cross Country Trains warned that some train services between Exeter and Plymouth along the coastal railway line will be cancelled in very bad weather.
High tides and bad weather along sea walls in Dawlish can stop the company's Voyager trains because water affects the electrics.
Most recently, Transport Minister Norman Baker said "in light of a tough spending review" funding for the £130m Kingskerswell bypass could not be guaranteed.
Related Internet Links
The BBC is not responsible for the content of external sites.