Service held for 1972 Staines air disaster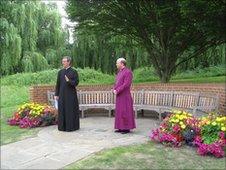 A memorial service has been held in Surrey to mark the anniversary of the 1972 Staines air crash, in which 118 people lost their lives.
British European Airways Flight BE548 crashed in a field within three minutes of taking off from Heathrow airport, bound for Brussels.
Prayers were said on Friday by the Rev Rod Cosh and the Bishop of Kensington.
"This date will always have special significance for the people of Spelthorne," said mayor John O'Hara.
"Many of us have vivid memories of that terrible day. It is important to take the time to remember and show our respect to the families of those who lost their lives."
The crash on 18 June 1972 remains one of the UK's worst air disasters but Mr Cosh said that when he arrived in Staines in 2000, there was no memorial to the victims.
He and Mr O'Hara appealed for donations and in 2004 a stained glass window was installed in St Mary's Church to commemorate the disaster.
"That is when we started having the service," he said.
"It was very difficult to contact the relatives after 32 years but one of the things that became apparent very quickly was that there had never been a meeting of the families.
"For some people, the grief is still real."
Since 2004, relatives of the victims from across Europe and the USA have attended the memorial services.
"The service is also an opportunity for us to give thanks for the heroism of the emergency services," said Mr Cosh.
"One of the people leading some of the prayers today was a nurse who was one of the first on the scene.
"She sat in the wreckage with one or two of the people while they died."
A memorial book containing the names of all the victims is also kept in the church.
Related Internet Links
The BBC is not responsible for the content of external sites.