Cairngorm runs ski tows for first time in midsummer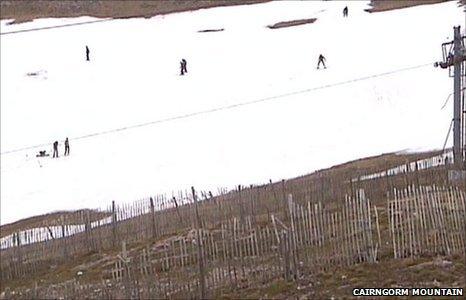 More than 100 skiers took advantage of ski tows being open at the Cairngorm Mountain resort for the first time in midsummer.
Previously at this time of year people have been able to ski in the Cairngorms, however, they had to trek to where the snow was.
Two temporary rope tows were being provided on Sunday and Monday.
CairnGorm, along with Scotland's four other ski centres, benefited from freezing conditions over the winter.
CairnGorm spokesman Colin Kirkwood said: "Although some of our more intrepid skiers have walked up the hill in previous years to find patches of snow on which to ski during the summer, this is the first time in living memory that we have skied with the benefit of mechanized uplift at CairnGorm at midsummer.
"Our customers seem to be delighted that we been able to provide this facility for them as the finale to this season."
More skiers were expected at CairnGorm on Monday, the last day of the snow sports season at the centre.
The Met Office forecast for the Cairngorms was for temperatures of 7C to 12C above 900m, but reaching 19C in Aviemore, the nearest town to the ski resort.
Meanwhile, the Cairngorms National Park marked the summer solstice with a night-time mountain bike ride.
Alan Rankin, chief executive of tourism body Visit Cairngorms, said the long winter had benefited many businesses in the park.
He added: "Despite the fact that there is still a wee bit of snow on the very top of some of the park's highest mountains, we are definitely open for summer activities."
Related Internet Links
The BBC is not responsible for the content of external sites.