Economic crisis 'must not disrupt vaccine programme'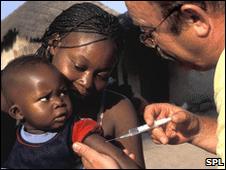 The global economic crisis must not be allowed to interfere with the delivery of new vaccines to the developing world, a global health body has warned.
The Global Alliance for Vaccines and Immunisations (Gavi) says it needs more than $4bn (£3bn) by 2015.
This would enable it to continue existing programmes and roll out new vaccines against diarrhoea and pneumonia.
But there are fears donors may want to cut back in the current climate.
Many developing countries now have, with foreign assistance, built up the infrastructure so that routine immunisations can now be offered to up to 80% of the world's poorest children.
Gavi, a public-private partnership which draws together organisations including the World Health Organization and the Bill and Melinda Gates Foundation, as well as the vaccine industry, is now trying to secure funding for 15 countries to add further vaccines to those existing programmes.
These include immunisations against pneumococcal disease - the most common form of bacterial pneumonia - and rotavirus - the most common cause of diarrhoea.
"Children have a right to health and we have it in our power to set them on a path to healthy and productive lives. There comes a time to stop talking and start doing. I sincerely hope that we will see donors put their money on the table," said the chair of the Gavi board, Mary Robinson.
"Without this funding for immunisation, the world will not reach Millennium Goal 4 to reduce under-five mortality by two-thirds by 2015," she said.
Gavi estimates that secures the funding it could immunise 240m children by 2015, four million deaths could be prevented - including one million from pneumococcal disease and rotavirus.
In March, the UK pledged £150m to Gavi over 10 years.
£10m has already been paid out, but there are plans to review all funding of international agencies - of which GAVI is one - as part of a drive to direct money at only the most effective organisations, a spokesperson confirmed.
Related Internet Links
The BBC is not responsible for the content of external sites.