Africa's defence spending boom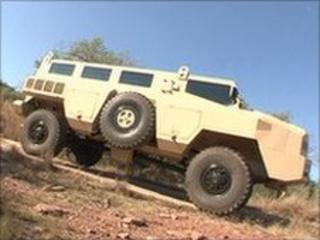 The Cold War has been over for two decades and most of Africa's worst conflicts are at an end. Despite this, defence spending in Africa is rising once again.
Across the continent, billions of dollars are being poured into armoured vehicles, flak jackets and logistics.
Since the end of the Cold War, global military spending has fallen by 35%. But the Stockholm Peace Research Institute estimates that in sub-Saharan Africa it has risen by almost a third over the same period.
In Uganda alone, spending on military hardware almost doubled in a single year (1997-98), according to the International Institute for Strategic Studies.
New risks
With most of Africa's bloodiest wars now over, this may seem a baffling development.
Analysts, however, point to new risks developing across the continent, such as the Somali piracy which is destabilising the East Africa coast as far south as Tanzania and the Seychelles.
"In some countries, it is just armed thugs like the Lords Resistance Army which has moved from Uganda to the DRC [Democratic Republic of Congo]," says Helmoed Heitman, a Cape Town-based security analyst with IHS Jane's.
"[But] anything from groups of 20 to 30, up to several hundred and they are well armed, they have night visions goggles, they have satellite telephones, they are often supplied by very experienced, ex-military people," he explains.
The threat from these ad-hoc groups has prompted governments, NGOs and even private companies to invest in goods from defence contractors.
Skills base
In South Africa in particular, the defence industry has always been controversial. With its roots firmly in the apartheid era, for most Africans it still conveys images of armed police sweeping into the townships in their six wheeled Casspirs, at the height of the security clamp-downs, firing tear gas and rubber bullets.
But the Paramount Group, a South African-based firm and the largest privately owned defence contractor on the continent, is keen to stress what it sees as its core role: providing military hardware for peacekeeping missions around the world.
Chief executive Ivor Ichikowitz told Africa Business Report: "The world has finally discovered that we [in South Africa] have some of the best technologies at affordable prices.
"We have an amazing skills base, we are home to some of the best engineers in the world, and those engineers have gone on to develop technologies which are being used globally and save lives every day."
On a hot, dusty afternoon on a vehicle testing site just outside Pretoria, the latest products from Paramount are being put through their paces. There are high performance military vehicles, designed to withstand land mines and IED blasts on some of the toughest terrain on the continent.
The company's sales have been rising by a quarter year-on-year since 2005.
As well as a strong domestic client base, it is exporting to overseas markets in Central Asia and the Middle East.
'African competence'
But not everyone is happy about the success of companies like Paramount.
Aid agencies and economists have long argued that defence spending in Africa runs directly counter to development.
The ANC's decision to spend $4.6bn (£3.3bn) on an arms buying programme in the mid-90s caused a political storm, not least as it led to bribery charges against now-President Zuma, which were later dropped.
Housing minister Lindiwe Sisulu claimed it was a wasteful divergence of resources from more pressing domestic needs.
Africa's influential church lobby has also raised concern about the arms trade fuelling regional instability.
Paramount counters these claims by pointing to its stringent sales policy and government export controls. The wider defence industry in Africa claims more commercial military hardware should not necessarily mean more killing.
Mr Ichikowitz believes that "the defence and aerospace sector is an asset of the continent, and my vision has always been to see how we can use that as a mechanism to contribute to the development of other countries in Africa, and that is exactly what our group is doing every single day".
Defence is now set to become one of Africa's biggest foreign currency earners of the future.
"From an African point of view, this [defence] is an African competence," Mr Ichikowitz says.
Watch Africa Business Report on BBC World News on Saturday, 19 June at 0130 GMT and 2230 GMT and on Sunday, 20 June at 1330 GMT and 2030 GMT.