Isle of Man Steam Packet Company payout over deaf cook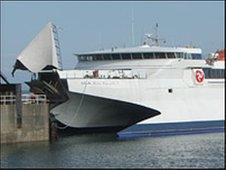 A Manx ferry company has been been ordered to pay £3,180 in compensation to the widow of a ship's cook who was deafened by excessive noise.
Thomas Keefe, from Liverpool, sued the Isle of Man Steam Packet Company Ltd after working on their ferries for over 35 years.
He died during his compensation battle, but his wife took it to its conclusion at the Court of Appeal.
The ferry firm is also expected to pay court costs of more than £50,000.
Shona Cunnings, who represented the Keefes, said this case could trigger many more claims against the firm.
"Many witnesses spoke out against the company, some of whom had worked in similar conditions and had been made deaf by the continual noise.
"They said it was so bad at times they had to communicate using sign language."
Mr Keefe began his legal fight in Chester County Court in 2004, he died from cancer in 2007 aged 53 but his widow, Carol Keefe, continued in his memory.
The county court found in the company's favour, but then the Keefes took the case to the Court of Appeal.
The ferry company, which had not carried out any noise level tests, was also found in breach of its duty to employees by not checking whether the noise exceeded the correct level.
It also did not offer any hearing protection, the judges were told.
Ms Cunnings added: "Mrs Keefe is made up, she is delighted after all this time she feels that some kind of justice has been done in her husband's memory."
A spokeswoman for the Isle of Man Steam Packet Company said: "This case is currently being handled by the firm's insurers.
"The company is not in a position to comment further pending the conclusion of the legal process."
Related Internet Links
The BBC is not responsible for the content of external sites.