Public to have say on police cuts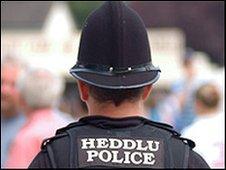 People living in the Dyfed-Powys area are being asked for their views on policing priorities as the force deals with a £900,000 budget cut.
Over the next six weeks researchers from the force will visit communities across Carmarthenshire, Pembrokeshire, Ceredigion and Powys.
They will be asked what they think of the service and what the priorities should be over the coming year.
The force said it was determined cuts would not hit front line services.
It has been notified by the Home Office of a £900,000 cut in its grant funding and warned balancing the budget would be extremely difficult.
Deputy Chief Constable Jackie Roberts said: "Our aim is to make sure we keep our communities safe, so we do need people to tell us what they really think, particularly what we should be focusing on.
"Given the recent budgetary announcements, it is more important than ever that we spend our money wisely and on things that matter to our communities."
She said the survey would take no more than five minutes to complete.
"It helps us find out what people really think of their police as well as identifying the issues affecting their areas and how we may work more closely together to tackle these problems," she added.
Related Internet Links
The BBC is not responsible for the content of external sites.