Legal action launched over Godstone Farm E. coli twins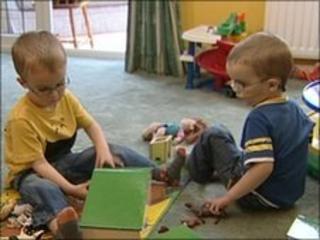 The Kent mother of twins who were ill with E. coli in an outbreak in Surrey last year is suing the petting farm where her children became infected.
Tracy Mock has instructed a lawyer to bring a High Court claim after Todd and Aaron, now three, had kidney failure.
On Tuesday, a report said health chiefs could have prevented a "substantial" number of cases at Godstone Farm.
Jackie Flaherty, owner of Godstone Farm, said she was unable to comment while proceedings were under way.
Law firm Field Fisher Waterhouse issued proceedings on Friday against the farm near Redhill.
The damages claim is for personal injury and consequential loss.
The twins visited Godstone Farm last year as part of a school trip.
After they contracted E. coli, Todd and Aaron spent several weeks in hospital.
The law firm said Todd was left with 80% kidney function and Aaron with 64%.
Both children may need kidney transplants in the future, and Aaron needs a feeding tube for liquids.
Earlier this week, Ms Mock told the BBC: "At the moment we're just grateful that they're both happy. I don't know what the future holds for them.
"For now we're just enjoying our two little boys."
'Unacceptable delay'
In the outbreak at Godstone last year, 93 people became infected, including 76 children under the age of 10.
Field Fisher Waterhouse is representing 17 families, including 25 children and one adult who caught the bug, and expects to add them to the legal action later.
This week's report said the Health Protection Agency (HPA) missed a key opportunity to take action to restrict the size of the outbreak.
After the report was published, Justin McCracken, head of the HPA, said he was "very sorry" for the failings of his organisation.
Godstone Farm remained open during the August Bank Holiday weekend even though officials knew about three or four cases of the bug.
During the bank holiday weekend, the farm had 5,500 visitors including 2,000 children.
The report said there was an "unacceptable delay" in taking steps to control the outbreak.
Godstone Farm shut on 12 September, four weeks after the first case of E. coli was reported.
The independent panel, led by University of London infection expert Professor George Griffin, said safety measures on the farm were "inadequate" as they primarily relied on visitors washing their hands.