'Honeytrap victim' aided scammer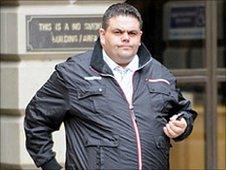 An IT worker conned out of £5,000 by an online fraudster has avoided jail for his part in a £25,000 scam.
Brian Mackay, from Edinburgh, had agreed to process the cash for a Nigerian woman he met in an internet chatroom between May and July 2008.
The High Court in Edinburgh heard he had fallen victim to a "classic honeytrap" after the woman claimed she needed to pay family medical bills.
He was ordered to complete 260 hours of unpaid work for his part in the con.
The court was told that Mackay handed over between £4,000 and £5,000 of his own money to the women after the pair struck up a relationship online.
The woman, who is yet to be traced, told Mackay she needed cash to help her with various family crises and to pay medical bills for a relative in America.
However, when his own money ran out, she then persuaded Mackay to go to Cash Converters in Edinburgh and process £25,635 which she had conned out of other individuals who thought they were giving to charity.
Defence agent Cameron Tait told the court that his client was suffering from depression at the time of the offence after being dumped by his girlfriend.
A charge of fraud against Mackay was dropped by prosecutors. He was convicted under the Proceeds of Crime Act.
Sparing Mackay jail, Sheriff Deidre MacNeill said: "It seems like a classic honeytrap.
"The circumstances seem to be that you befriended this Nigerian woman on the internet.
"A custodial sentence would be the first consideration, however, there are mitigating circumstance here.
"As an alternative I am going to make a community service order."
Related Internet Links
The BBC is not responsible for the content of external sites.