Mark Twain handwritten tribute sells for $242,500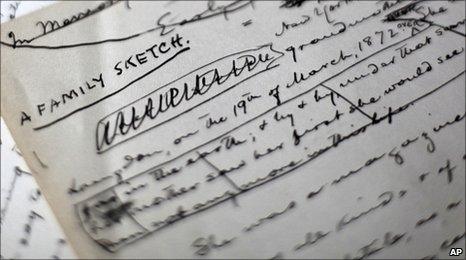 A 64-page tribute handwritten by Mark Twain to his daughter after she died aged 24 has sold at Sotheby's in New York for $242,500 (£164,000).
Author Twain - real name Samuel L Clemens - wrote A Family Sketch shortly after the 1896 death of Olive, who contracted spinal meningitis.
"She was a magazine of feelings" of "all shades of force", he wrote.
It forms part of a collection of Twain manuscripts expected to sell for up to $1.2m (£810,000).
Further Twain lots were due to be auctioned later on Friday.
Twain wrote of his daughter, who was the inspiration for his stories Joan of Arc and A Horse's Tale: "In all things she was intense: in her this characteristic was not a mere glow, dispensing warmth, but a consuming fire."
Ahead of the sale of A Family Sketch, University of California Twain expert Robert Hirst said any collector of the writer's works would be "willing to go hungry for two or three years just in order to be able to buy it".
Later this year, the university is to publish Twain's uncensored autobiography in full for the first time.
The first of three volumes will be published in November to celebrate the 175th anniversary of his birth.
Twain, who died in 1910, wrote classic novels The Adventures of Tom Sawyer and The Adventures of Huckleberry Finn.
Related Internet Links
The BBC is not responsible for the content of external sites.