Health secretary halts Bury maternity unit closure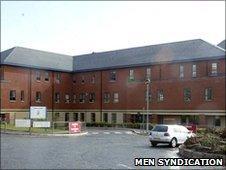 Plans to close the maternity unit at Bury's Fairfield Hospital have been put on hold by the government.
The service was due to close next year as part of a huge shake-up of maternity services across Greater Manchester.
Patients were to be sent to so-called "super units" at North Manchester and Bolton General Hospitals.
But the Health Secretary Andrew Lansley halted the process on Friday, ordering bosses to "re-examine" the closure.
He said he had been consistently told the unit should be maintained during meetings with staff and people in Bury over the past four years.
"Over the same period, the number of babies born in Greater Manchester has increased. When circumstances change, decisions can change," he said in a statement.
"In our coalition agreement, the government committed to stop the centrally dictated closure of maternity units.
"So today, I have asked the local NHS to re-examine their plans for maternity services in the area, to make all the evidence publicly available, and to go back to GP commissioners and prospective users of the maternity service in Bury to confirm what they want.
"In particular, I have today asked the NHS locally to take no further action to close the maternity service at Fairfield and instead, to plan on the basis of the prospective choices of mothers to be in Bury and neighbouring districts in accordance with the criteria for service changes I published last month."
The re-organisation of maternity care across Greater Manchester has been ongoing for a number of years, and was finally approved in August 2007 by the previous Labour government.
Under the shake-up, maternity units in Rochdale, Salford, Trafford and Bury were to close to concentrate consultant-led maternity care at eight hospital sites across the region.
Services have already closed at Trafford and units at Salford, Bury and Rochdale were set to follow suit by 2012.
Related Internet Links
The BBC is not responsible for the content of external sites.