Scottish hotel sector suffers dip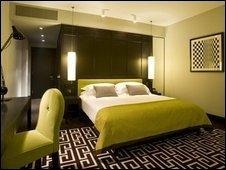 Scottish hotels reported a large fall in occupancy and revenue in April.
The accountants PKF found that occupancy levels fell 4.3% in Scotland but increased by 1.9% in the UK.
Revenue or rooms yield was down 7% in Scotland with Edinburgh seeing the worst fall of 10.7% over the month and the UK reporting a drop of 1.5%.
Alastair Rae, of PKF, said: "The fall in occupancy and rooms yield during April is of some concern for the Scottish hospitality sector."
He added: "In particular the figures for Edinburgh are worrying at a time when there was an assumption that this year would be an improvement on 2009.
"Given that so much of Edinburgh's hospitality sector is leisure based the answer may be that the fall in these numbers is due to a reduction in the volume of tourists for the early part of the holiday season."
Related Internet Links
The BBC is not responsible for the content of external sites.