Fall injuries cost NHS Highland £11m to treat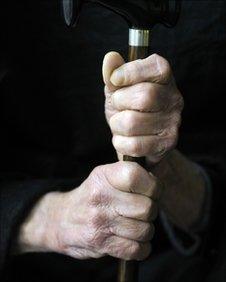 The cost to NHS Highland in treating a type of hip fracture caused by people falling ran to more than £11m last year, it has been revealed.
The health board has estimated that 20,000 people in its area are hurt in falls each year - half of them aged 80 and over.
NHS Highland is leading a bid to reduce the number of casualties among older people.
Older patients will now be assessed on the risks they face from falling.
During National Falls Awareness Week, Age Scotland will also hold health promotion events in Thurso, Dingwall, Nairn and Lochgilphead in Argyll.
NHS Highland looked at the cost of treating 28 cases of neck of femur fractures, a type of hip injury, at Raigmore Hospital in Inverness each month last year.
It said the conservative estimate for the hospital care ran to £5.1m.
Once out of hospital, the cost of additional GP appointments, rehabilitation and social services support was about £6.2m.
To reduce the number of people being injured, NHS Highland, along with other public bodies, will carry out fall risk assessments of thousands of older people.
Advice to be given will include ensuring floor coverings are safe and people wear the correct, and clean, spectacles.
Falls prevention officer Iain Macritchie said the harm to older people went beyond physical injury.
He said: "Falls are a major cause of avoidable injury and even death, particularly among older people.
"They also lead to loss of confidence and a vicious circle is created where a person becomes less active, weaker, and therefore more likely to have another fall.
"A serious injury will lead to a stay in hospital and loss of independence during recovery."
Related Internet Links
The BBC is not responsible for the content of external sites.