Devon cat torture sent on mobile phone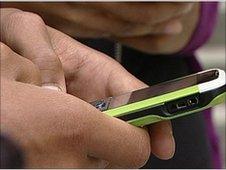 Police and RSPCA inspectors are investigating mobile phone footage of a cat being being put in a microwave, freezer and tumble drier.
The footage was reported to the RSPCA in Teignmouth, Devon.
A 44-year-old local man arrested on suspicion of animal cruelty has been released pending further inquiries.
A 16-year-old boy has been questioned by police and has also been released. Another 16-year-old boy will be questioned later.
Police were alerted after a recipient of the video reported it to the RSPCA.
Investigating officer, Pc Phil Colley, said the footage showed the cat being put in the microwave for 10 seconds before being pulled out and put into a tumble drier for another 10 seconds.
It is pulled out by the scruff of its neck and put into a freezer for about 20 seconds before being dragged out again and dunked in a bowl of water.
He said: "I felt sick watching it.
"It's the worst case of animal cruelty I have seen in 10 years on the job."
The one-year-old tabby has been moved to a cats' home.
Related Internet Links
The BBC is not responsible for the content of external sites.