Russia to drop capital gains tax to attract investment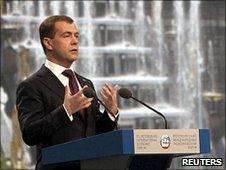 Russia will scrap capital gains tax on long-term direct investment from 2011, President Dmitry Medvedev has said.
Mr Medvedev said that in terms of improving Russia's investment climate "we, I hope, are moving forward".
He also said the number of "strategic" firms, in which foreign investment is restricted and which cannot be privatised, would fall from 280 to 41.
Mr Medvedev has been promoting the idea of "modernisation", including diversifying the Russian economy.
Also, many investors have been wary of coming to Russia because of corruption and the dominant role the state plays in Russia's business life.
Mr Medvedev told the St Petersburg International Economic Forum that long-term direct investment was "necessary for modernisation".
He also said that he would ask the government to create a special investment public-private fund.
"Such an idea should be implemented within a year," he said.
The Russian economy, heavily dependent on oil and gas revenues, was enjoying several years of robust growth in the middle of the 2000s.
However, it was hit hard by the global economic crisis, and in 2009 the economy shrank by 7.9%.
The economy is forecast to return to growth this year, expanding by about 4%. But Russia is also set to run a budget deficit for several years to come.
Its oil revenues fund, which has been financing the deficit, is expected to end next year, and the government wants to attract more foreign investment to boost the economy.
In an interview with Bloomberg Television earlier this week, Russia's First Deputy Prime Minister Igor Shuvalov said: "While Russian stocks may be undervalued, Russia is not seeking investors interested in quick and easy money."
"I would welcome real investors who can build factories, something new in this country."