Nesting sea birds killed 'in dog attack' in Pleinmont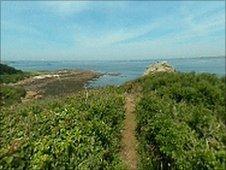 Nesting sea birds and their young have been killed and injured in an alleged dog attack on Guernsey.
A tourist reported that two golden Labradors and a border collie were chasing birds over the cliff edge at Pleinmont.
It was also reported that the dog owner was throwing stones at adult birds. He was driving a dark blue Renault Kangoo.
Police are investigating the incident and want to speak to the dog owner and anyone with information.
Conservation officer Jamie Hooper who is working with the police said: "The incident involved a dog owner in amongst the nesting gulls.
"His three dogs were running through the nesting area picking up the chicks and driving others off the cliff to their deaths.
"It would have destroyed that part of the colony for this year."
Police said that herring gulls and other species had been affected.
Mr Hooper said: "To knowingly disturb nesting birds and their chicks is an offence under bird ordinance and so the police are treating it as a crime."
Related Internet Links
The BBC is not responsible for the content of external sites.