Mental health care 'failed Nottingham man'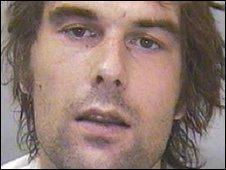 A damning report into the care of a seriously mentally ill man who stabbed his grandfather to death said risk factors were disregarded and care fell below acceptable standards.
William Barnard stabbed his grandfather John McGrath to death during an attack in July 2009.
And his grandmother, who was seriously hurt in the incident, has been so badly affected by her husband's death she has said she wished she had died in the attack.
Mable McGrath was badly injured when her grandson fatally attacked his grandfather, John, at the elderly couple's home in Thorpe Close, Stapleford, in July 2009.
Mr Barnard, 30, of Wesley Place, Stapleford, had been treated for a serious mental illness Nottingham Crown Court had been told, but he had stopped taking his medication and was not placed in a secure mental health unit.
And his mother Kath said if mental health professionals had acted quicker and listened to the family's concerns then her father would still be alive.
A report commissioned by Nottinghamshire Healthcare NHS Trust said there was "a disregard as to the significance of risk factors relating to Patient 09's (William Barnard) deteriorating condition" and that his care "fell below acceptable standards".
The report highlighted 24 occasions when Mr Barnard's behaviour was so concerning that mental health staff were contacted either by family members or other people.
In one passage the report says: "The Assertive Outreach Team was characterised by weak operational and professional leadership resulting in poorly co-ordinated multi-disciplinary working within the team."
On Friday William Barnard was given a hospital order under the Mental Health Act by Judge Michael Stokes QC at Nottingham Crown Court.
In a statement Nottinghamshire Healthcare NHS Trust, who held an investigation into the care Mr Barnard was given, said: "This investigation has revealed that the general level of care provided to this patient during 2009 fell below an acceptable standard and for that we are very sorry."
William Barnard's mother blamed mental health staff who were responsible for William's care for her father's death.
She said: "My dad would still be alive today if they had done what they should have done.
"These people are paid to do a job and in my eyes they didn't do that, even with the family telling them Will was deteriorating
Reliving the detail of the attack grandmother Mable McGrath said she would "never get over it" but did not blame William because he was unwell.
She said: "I was stabbed in the back, behind my ear and through into my mouth and it broke my jaw.
"I was just pouring with blood."
Mrs McGrath said she struggled in vain to stop the assault.
"I tried to pull William off when he was stabbing his granddad, but he was a big lad and I couldn't move him.
"I wish he'd (John) have took me with him, I talk to his photograph.
"I will never get over it, because we loved each other so much."
Related Internet Links
The BBC is not responsible for the content of external sites.