Utah firing squad death announced on Twitter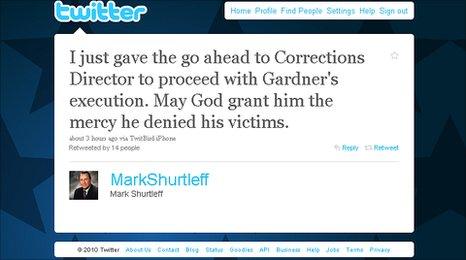 It was a very modern way to announce a very old-fashioned death.
Shortly after midnight in the US state of Utah, Attorney General Mark Shurtleff picked up his Apple iPhone, opened up a Twitter "app" on his handset and began tweeting.
But Mr Shurtleff's 134-character composition was no ordinary post. This was not a piece of miscellany from the 53-year-old's home life, a link chosen to amuse or interest his followers, nor even a political prod at his Democratic rivals.
Instead, Mr Shurtleff used Twitter to announce that most important of all things: the death of a human being, convicted murderer Ronnie Lee Gardner.
"I just gave the go ahead to Corrections Director to proceed with Gardner's execution. May God grant him the mercy he denied his victims," the attorney general wrote.
The message would have been seen by the 7,000 or so users who "follow" Mr Shurtleff on Twitter.
But thanks to the exponential way in which messages are spread on Twitter - being "retweeted" by those who find them interesting - the Utah politician's words soon found their way to a wider audience.
In all Mark Shurtleff sent three tweets around the time that a five-man firing squad put Gardner to death.
In his first, sent at 1318 local time (1918 GMT) on Thursday, Mr Shurtleff acknowledged the gravity of the occasion.
"A solemn day. Barring a stay by Sup Ct [US Supreme Court], & with my final nod, Utah will use most extreme power & execute a killer. Mourn his victims. Justice".
Later he posted confirmation that he had indeed given that "final nod".
"We will be streaming live my press conference as soon as I'm told Gardner is dead. Watch it at www.attorneygeneral.Utah.gov/live.html" he wrote.
Mr Shurtleff was doing nothing unusual: politicians and news organisations now routinely send out tweets to alert people to the latest developments.
But as Twitter users digested endless breaking news flashes alerting them to the death of a man by firing squad in the United States, for some Mr Shurtleff's remarks stood out from the rest.
Within minutes a line from the BBC's news story was in circulation: "Utah Attorney General Mark Shurtleff used the Twitter micro-blogging site to say he had given the go-ahead for execution."
Reacting to the news one British tweeter, Sam Delaney, under his username Fyshdesign, wrote simply: "That's awful!"
Switzerland-based Guy Ordway added simply: "Crikey". A Bangkok tweeter adopted Twitter parlance, dubbing the event the "twttrexecution".
Another user, known only as Brenstrong, observed in a public reply that: "death penalty bad enough. Firing squad! And there's an absurdity to a man's demise being announced over twitter..."
He has now sent 632 tweets and appears to use the service regularly to update his followers on events in Utah.
For some at least, using Twitter to announce the execution of a man is just an extension of that public service.
Related Internet Links
The BBC is not responsible for the content of external sites.