Mayor, 22, picks sister, 20, as mayoress in Whitland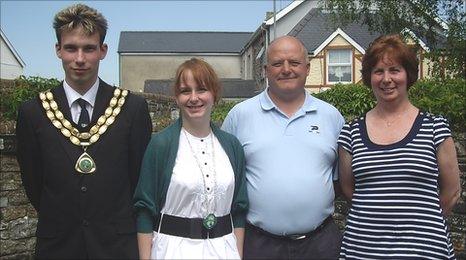 With his eyebrow piercing and tender age, Craig Wilson may not seem the typical candidate for town mayor.
But at just 22, he is already a school governor, town councillor, apprentice plumber and has two jobs.
Craig, one of the youngest people in the UK to take up the mayoral chains, has attended his first official outing as mayor of Whitland, Carmarthenshire.
He was accompanied by the mayoress, his sister Clair, who's even younger at 20.
The siblings are following the political path taken by their parents, Carol and Robert, who are both Whitland town councillors. Their mother was herself mayor in 2007-2008.
Despite his achievements, the new first citizen of Whitland portrays as a typical 22-year-old who goes out with friends at the weekend.
His first outing in his official capacity was attending the 25th anniversary of a Whitland heritage centre which celebrates the life of the Welsh king Hywel Dda, with his official consort his sister, along with his parents.
He said: "I have always wanted to sit on the council and try and get the representation the youth don't have, get their opinions, what they want, how they think the town should progress. It might make Whitland a better town."
He was co-opted onto Whitland Town Council in May 2008 and was last year's deputy mayor, nominated after the former deputy mayor had to retire due to personal reasons. He automatically became mayor in May.
He says he and his sister are close, and she paid for his eyebrow piercing, telling him "it wouldn't hurt" - so it was only natural he asked her to be his mayoress.
She will fulfil the duty until September when she goes to Aberystwyth University to study childhood studies and primary teaching.
She said: "He just asked if I wanted to do it and I'll gladly support my family in anything they do so I agreed.
"He is pretty young for the job but he does have the passion for it. I think he's going to enjoy it, I think he is going to have a good year."
The mayor, a former pupil of Greenhill School, Tenby, now works alongside his father in their home improvement business, as well as taking a part-time plumbing course at Pembrokeshire College and working at weekends in Manorbier Garden Centre.
He is also a governor for Whitland Primary School and plays in a local darts team, so after official engagements are fulfilled does not have much time for socialising.
Both parents take an active role in local politics and are full of pride of their son's achievements. They hope he will be an inspiration to people of his age.
Mrs Wilson said: "We're well impressed - really proud of both of them. Serving our community is what we are there for.
"The youth of today are under-represented, I personally think they get dealt a very raw deal."
The mayor's father added: "We need the younger generation to come in because they are going to have to take on the mantle that we are leaving behind as we won't be here forever."
The mayor is looking forward to his first mayoral overseas visit to Whitland's twin town in France, Pipriac in Ille-et-Vilaine, Brittany.
Craig says: "It should be interesting. I might have to brush up on my French a bit.
"When I get off the boat they might get a shock when they ask 'who's the mayor then?' and I say 'me'."
Related Internet Links
The BBC is not responsible for the content of external sites.