Portsmouth's World Cup fans warned over banning orders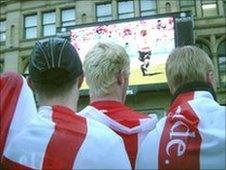 Police in Portsmouth are warning football fans subject to banning orders to sign on ahead of England's World Cup match later.
Fans subject to the orders are required to sign in at a police station before each England game.
Officers have arrested 14 men in the city on suspicion of breaching orders since the end of May.
One hundred and fifty fans in Hampshire have orders and had to hand in their passports during the World Cup.
England are playing Algeria in their second game of the World Cup in South Africa at 1930 BST on Friday.
Pc Paul Foley said: "These 14 arrests follow on from work we did to help convict eight Portsmouth men following trouble at the Carling Cup fixture against Carlisle in October last year.
"The majority of football fans are well behaved, but there are a few who want to spoil it for the rest and these orders can help us to prevent them from doing so."
Of the 14 men arrested since May, four pleaded guilty before Portsmouth magistrates and were fined, given curfews or supervision orders.
Two men pleaded not guilty and will now face trial.
Three were charged and released on police bail to appear in court on 22 June.
The remainder received cautions and reprimands.
Related Internet Links
The BBC is not responsible for the content of external sites.