Santander makes bid for RBS branches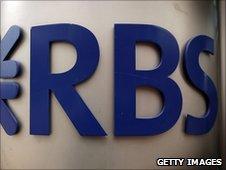 Spanish bank Santander has submitted an offer to buy Royal Bank of Scotland's (RBS) Williams & Glyn's subsidiary.
RBS is selling the unit and its 318 branches after the European Commission ruled last year that it must dispose of the business as a condition of the bank being bailed out by the UK government.
Virgin Money, who had earlier dropped out of the bidding, told the BBC it was still interested in the RBS branches.
Santander said it was not sure when the tender process would end.
Santander is understood to have offered considerably less than £2bn.
"There is a pretty high probability that the board of RBS will conclude that Santander is not offering enough and will therefore withdraw the branches from sale, in the hope that market conditions for the auction of such assets improve in a year or two's time," BBC business editor Robert Peston said.
Under the agreement RBS reached with the European Commission on the disposal of certain of its businesses, RBS has another three and half years to complete the sale of the branches.
RBS said it was "seriously reviewing" Santander's offer, but added that the tender process remained open to other interested parties.
"This remains a competitive process and we will continue to do what is right for our shareholders in disposing of these assets," it said in a statement.
A number of other banks have been named as potential bidders, including National Australia Bank and US private equity group Blackrock, but reports have said they have dropped out of the running.
Santander already has a substantial presence on the UK High Street having bought Abbey National, Alliance & Leicester and Bradford & Bingley in recent years.
Related Internet Links
The BBC is not responsible for the content of external sites.