Devon mother and son 'thrown off bus' in Plymouth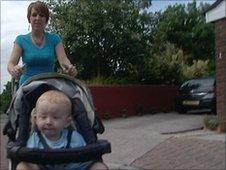 A pregnant mother says she was forced to get off a bus because the driver was disturbed by her toddler's behaviour.
Sharon Tracey, 35, said she was told by the driver to keep her two-year-old son Brandon quiet on the number 62 in Plymouth, Devon.
Mrs Tracey claims they were then made to get off more than a mile from her stop because she failed to heed the driver's warning.
The transport company Plymouth CityBus said it was investigating.
The alleged incident happened on Tuesday as part-time hairdresser Mrs Tracey, who is four months pregnant, was heading home to Crownhill from the city centre.
She got on the bus with Brandon who was in his pushchair.
She said: "He had been in town, he was fed up and hot and was screaming to get out.
"I was doing my best to keep him quiet.
"The driver turned round and said if I did not shut him up we would be thrown off.
"I tried in vain to keep him quiet as I felt a bit embarrassed."
But at the Manadon roundabout, about 30 minutes walk from her house, the bus driver stopped.
"He said I had had a warning and must get off.
"I felt very embarrassed and upset."
She added: "I hear other kids playing up all the time and you think nothing of it. There's not a lot you can do when kids have these moments."
Her husband Paul, 38, said: "I had a phone call from her saying a bus driver had thrown her and my son of the bus.
"I had to ask her to repeat it as I was stuck for words.
"I cannot get my head around it. If this guy does a school run, how is he going to cope?"
A CityBus spokesman said CCTV from the bus was being checked and all evidence would be investigated.
Related Internet Links
The BBC is not responsible for the content of external sites.