South Carolina Democrats uphold Greene primary win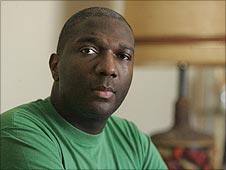 Democratic Party officials in the US state of South Carolina have upheld a surprise primary election win by an unemployed military veteran last week.
Questions were raised when Alvin Greene was chosen as the party's Senate candidate for November's mid-term polls despite being a virtual unknown.
But the party's executive committee decided there was not enough evidence of impropriety to overturn the ballot.
The challenge was brought by Democratic election loser Vic Rawl.
Mr Rawl, a former judge whose campaign was backed by the local party, argued the electronic voting machines used in the primary were unreliable.
He said he would not appeal against the decision.
Mr Greene, 32, will face Republican Senator Jim DeMint in the contest for the South Carolina Senate seat.
Since winning his party's state primary on 8 June, Mr Greene has had his mental state questioned on live television and been accused of being a "plant" by senior Democrats.
His lack of funds and absence of visible campaigning led to suspicions that the Republicans may have had a hand in his election.
Mr Greene did not appear at the executive committee meeting and was not represented there.
Speaking to the Associated Press news agency after the meeting, he gave what appeared to be a stock response when asked about his candidacy.
"I am the best candidate in the US Senate race in South Carolina," he said.
"Let's stop my opponent from reversing forward progress in the United States and South Carolina."