UN panel on Sri Lanka civil war in place 'next week'
By Charles Haviland
BBC News, Colombo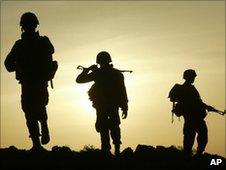 A panel to advise the United Nations on human rights issues arising from the civil war in Sri Lanka could be in place within days.
The announcement came from the UN's head of political affairs, Lynn Pascoe, after a two-day visit to the island.
The Sri Lankan government is opposed to the panel, which would advise UN chief Ban Ki Moon on moves to address the grievances that fuelled the conflict.
Mr Pascoe praised government efforts to resettle Tamils displaced by war.
The UN intends that the human rights panel will advise its chief Ban Ki Moon on issues and standards of accountability arising from the 37-year conflict with the Tamil Tigers, which ended last year.
The UN estimates that 100,000 people were killed in the conflict.
'Bitterness and divisions'
The panel will confront allegations of war crimes which have been levelled against both the government and the Tamil rebels.
It could be in place by early next week.
However, the plan has met with opposition. Speaking in March, Sri Lankan President Mahina Rajapaska described it as totally unwarranted.
Mr Pascoe, a senior UN diplomat, said the panel was about to be appointed.
He added that the UN will also be interested in the progress of an internal commission on the final years of the war, recently set up by Colombo, the Sri Lankan capital.
There was an urgent need to take steps towards political reconciliation, Mr Pascoe said.
"Bitterness and divisions that took decades to accumulate will not dissolve overnight in Sri Lanka," Mr Pascoe said.
"But now is the time to make major efforts to begin healing these wounds. The end of the conflict must be followed by a political solution that addresses the issues and grievances that fuelled the war."
But Mr Pascoe had praise for the authorities on another difficult theme, the resettlement of hundreds of thousands of Tamils displaced by the war.
Fresh from a visit to northern regions where people are only now returning home, he said children were attending school and people had food and access to basic healthcare.
But getting building materials for housing and shelter was still a major problem.
Related Internet Links
The BBC is not responsible for the content of external sites.