Alcohol sparks dementia in young in Liverpool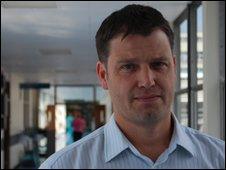 Alcoholism among young people has hit such a "crisis point" in Liverpool that they are beginning to suffer from diseases like dementia, a doctor warns.
The city has the second highest rate of alcohol-related hospital admissions in England - 2,145 men per 100,000 each year.
"I am seeing men and women as young as 20 dying on the wards," he said.
Hospitals across north-west England treat one patient every four minutes with an alcohol-related problem.
Dr Stephen Hood, a consultant at the University Hospital Aintree, said he is seeing more and more people in their 20s and 30s with neurological diseases and mental disorders triggered by alcohol abuse.
"We need to get people to realise that these conditions, like cirrhosis and dementia, are not 'old people' diseases.
"Young people are becoming more and more prone to developing them. It is reaching a crisis point."
He believes the problems stem from young people drinking from an earlier age, the cheap price of alcohol and the amount of advertising on the television and in shops.
"You can't walk into a supermarket without being confronted by rows of booze and drink offers," he said.
In north-west England, the number of alcohol-related diseases has shot up from 90,000 in 2002 to 165,000 in 2009, according to statistics released by the strategic health authority.
Dr Hood has organised an event on Friday at the University Hospital Aintree about alcohol abuse to create a strategic approach across Merseyside to tackle the problem.