Anger over Syrian-Israeli peace website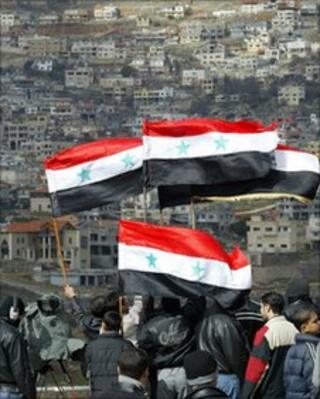 After decades of being in an official state of war, Syrians and Israelis are using the internet to reach out to each other - but the peace overtures themselves have come under fire, the BBC's Lina Sinjab reports from Damascus.
The state of war between Israel and Syria, begun in 1948, prevents their citizens from meeting in person, but recently they have started to come together online.
Onemideast.org is a new website that brings together Syrian and Israeli bloggers, journalists and academics to discuss the stalled peace process.
For many, it is their first experience of direct public contact with their nation's enemies.
Commentators on a US-based Syrian blog, Syriacomment, came up with the idea of establishing a private group email to discuss peace-related issues several months ago.
The idea grew into a blog, with 10 members each from Israel and Syria, to initiate a debate to identify and try to resolve the main obstacles to peace between their nations.
The founder of Syriacomment, Professor Joshua Landis, says the internet has opened up a unique space for dialogue.
"It holds the potential for people-to-people diplomacy that did not previously exist," he says.
An Aleppo-born Syrian-Canadian writer, Camille Otrakji, leads the Syrian contributions to Onemideast.
He describes the aim as to "populate a public site with a comprehensive list of objections to peace from both sides, followed by the best counter-arguments to each of those objections".
By-passing bans
Many websites, such as Facebook, are blocked in Syria, and Onemideast is not accessible through normal routes.
But Syrians have been debating the peace issue through comments made on websites of overseas newspapers.
"Go to any article on the [UK-based] Guardian's site that deals with the Syrian-Israeli conflict and you will find Syrians and Israelis arguing their respective views," says Mr Otrakji.
Activists in Syria have often tried to start websites and blogs advocating the return of the Golan Heights - the Syrian plateau captured by Israel during the 1967 war.
"Some [overseas] Syrian bloggers were in confrontations with Israeli bloggers regarding the Golan Heights, but I don't think anyone inside Syria would participate in such initiatives," says young journalist Khaled Ikhtiar.
Syrians have grown up on the idea that Israel is the enemy and contact with any of its nationals is taboo.
Official Syrian newspapers refer to Israel as the "Zionist entity" and public opinion is filled with anger at its policies, particularly concerning the Palestinian conflict.
The two countries started indirect peace talks brokered by Turkey in 2008, focusing on the issue of returning the occupied territory. But they were suspended following the war in Gaza which began later that year.
In recent weeks, tension has escalated after Israel accused Damascus of providing the Lebanese Islamist group Hezbollah with Scud missiles. Syria has repeatedly denied the claim.
Name and shame
Inside Syria, there has been some fierce criticism of the latest attempts at better understanding and online exchanges.
A report on the Syrian website, all4syria.com, suggested the names of many individuals it alleged were involved in the Onemideast blog, based on Mr Otrakji's contacts in Facebook.
Most of those identified issued strong statements denying any connection with the project.
An English magazine editor and businessman, Abdulsalam Haykal, was among them. He questions the value of the project.
"I don't think it's possible for any similar blog to be of help to push things forward at this point," he says.
"While this one cannot harm either, it creates a false perception that Syrians talk directly to Israelis while their government doesn't, which weakens the Syrian negotiator's argument."
A well-informed source close to Syrian decision-making circles suggested the project operated in "a bubble" and could give the Israelis a false impression that something was in the making.
"Israel has never been under pressure like it is today," he said. "We should not give it the chance for talks unless it is committed to peace."
Despite such scepticism, Mr Otrakji believes Onemideast can play an important role.
"This is the best place to learn why that suspended peace process is not reaching its desired objective," he said.
"It is also the best place to find arguments for peace."