Funeral for Scots soldier who died at training camp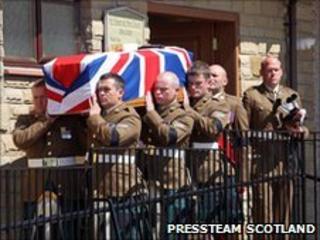 The funeral has taken place of a Scottish soldier who died after an accident at a training camp in Lancashire.
Pte Steven Taylor-Murray, 23, from East Kilbride, was injured at Halton Barracks in Lancaster and died later in hospital.
At a memorial service in his home town he was described as "the best friend anyone could ever have".
Family and friends packed St Vincent's Church for the full military funeral.
Mourners lined the street outside as his coffin draped in a Union Jack with a Tam O' Shanter on top arrived at the church.
The service was led by Father Francis King.
He read a letter to the family from one of Pte Murray's friends.
'Our hero'
It said: "You were like a brother to me and you were the best friend anyone could ever have.
"You will never be forgotten."
Speaking after his death, the soldier's family said they had lost their "legend".
His mother Kathleen said: "It was a tragic accident, that's all it was.
"Everything is so real and we have still got to deal with everything that goes with this.
"We have lost our legend. He did not get the chance to be Scotland's Army hero but he was our hero."
After the service the 23-year-old was laid to rest at Philipshill cemetery in the town.