London film centre loses £45m of government funding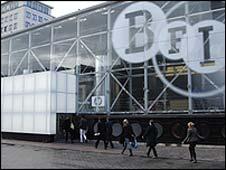 A new film centre planned for London's South Bank has lost the £45m funding it was promised by the last government.
It is one of a number of projects and schemes to have their funding withdrawn by the Department for Culture, Media and Sport (DCMS).
The British Film Institute said it had anticipated the cut and was committed to taking the project forward.
Other cuts include £17m earmarked for a Stonehenge visitor centre and £2m a year for library modernisation.
The DCMS says the cuts will result in savings of about £73m.
"We have examined a number of schemes to determine whether they remain a government priority, value for money, and affordable in the current economic climate," said Jeremy Hunt, Secretary of State for Culture, Olympics, Media and Sport.
"This has involved some incredibly difficult decisions."
The British Film Institute (BFI) announced plans for a £166m National Film Centre last year, to be built on the site of a car park behind the London Eye.
If built, the building will have five cinema screens with additional space for exhibitions, cultural events and research facilities.
Creative Industries minister Ed Vaizey said it was "obviously disappointing" that "the government can't contribute at present to the BFI Film Centre."
The DCMS cuts will also take £2.5m away from a BFI project to improve digital access to its extensive archive.
But the government said it would still fund the building of a new film store to safeguard the National Film Archive.
The BFI said it was "relieved that vital monies to save the BFI National Collections are secure."
Yet it expressed disquiet that film was "bearing the brunt" of the DCMS measures to reduce spending.
"Over 50% of the department's cuts that have been announced are coming from film," it said in a statement.
"As has been said time and time again, film is a critical component of Britain's future cultural and economic prosperity."
Other casualties include the Find Your Talent scheme that sought to offer children and young people five hours of culture a week both in and out of school.
Paul Collard, chief executive of Creativity, Culture and Education (CCE), expressed disappointment over the scheme's curtailment, which will result in around £2m being saved.
The pilot scheme, he said, had "already benefited hundreds of thousands of children and young people across the country."
"Culture can transform communities, strengthen families, increase community cohesion and play a significant role in social and economic regeneration," he continued.
"In the longer term, this programme would have yielded important learning about how such impacts can be delivered most effectively."
A Night Less Ordinary - an Arts Council England scheme to encourage more young people to visit the theatre - has also lost funding of around £100,000.
The scheme, launched last year, had made half a million free tickets available to people under the age of 26.
The cuts were part of a number announced on Thursday by various government departments.
Related Internet Links
The BBC is not responsible for the content of external sites.