Ring-fence social care like the NHS, campaigners urge
By Nick Triggle
Health reporter, BBC News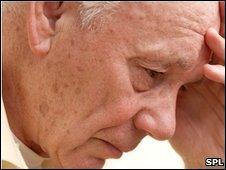 The social care budget needs protecting just as NHS spending has been, campaigners say.
Age UK has warned that if the expected cuts to councils are made, just half the 1m people needing help at home in England will be getting it by 2012.
The charity said social care should be put on the same footing as health, which will not see a funding drop.
The government was unable to offer such a guarantee, but said it was looking to reform the way the system was funded.
Ministers have announced that a commission will be set up to see what should replace the current means-tested social care system.
That is not due to report for another year, meaning any changes are unlikely before the end of this parliament.
Age UK, the new name for the merged Age Concern and Help the Aged group, said this was why some form of protection - maybe through ring-fencing which the coalition has guaranteed for the NHS - was needed.
Andrew Harrop, director of policy at the charity, said: "The two are so closely related. If you cut social care, it has an impact on the NHS through an increase in emergency admissions and things like that.
"It just does not seem to make sense and is not fair. A rise might not be realistic, but at the very least some sort of protection is essential."
Age UK commissioned the London School of Economics and the University of Kent to look at how spending cuts could effect social care ahead of the emergency budget next week.
They projected the budget could be trimmed by £900m over the next two years, which coupled with the rising demand from the ageing population, could increase the number of people being excluded from care.
The spokeswoman for the Department of Health said ministers recognised that the system needed "urgent reform".
But she said rather than offering guarantees on spending, they wanted to create a fairer funding system and had set up a commission of experts to look at the best way to do that.
"The commission will be tasked with delivering a sustainable settlement, which is a fair partnership between the state and the individual. Further details and the terms of reference will be set out soon."
Related Internet Links
The BBC is not responsible for the content of external sites.