Profile: Chancellor George Osborne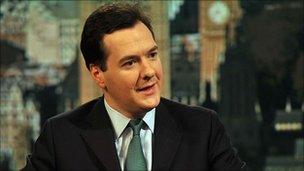 George Osborne must be used to big set-piece occasions after two and a half years holding the nation's purse strings.
But the statement he is preparing to make could turn out to be the most significant of his time as chancellor.
The autumn statement, known as the pre-Budget report under Gordon Brown, traditionally has a much lower profile than the Budget, which takes place in the spring.
But this time there is speculation that Mr Osborne will be forced to abandon the target he set in 2010 to have Britain's debt-to-GDP ratio falling by 2015, due to worse than expected economic growth.
All eyes will be on the Office for Budgetary Responsibility forecasts for debt, deficit and growth, which are published at the same time as the autumn statement.
Some commentators believe Mr Osborne will be spared the ordeal of having to scrap a key coalition objective because debt interest payments have been lower than expected the Treasury has received a windfall from the Bank of England, which last month handed over interest accrued on assets purchased as part of its Quantitative Easing programme.
But it is likely to be close run thing.
Mr Osborne became the youngest Chancellor of the Exchequer in 120 years when he took on the job, aged 38, following the 2010 general election.
The previous record holder, Randolph Churchill, father of Sir Winston, lasted just four months in the job and his first and only Budget was rejected by MPs.
Since his appointment, Mr Osborne has been battling to get to grips with a record budget deficit and a stubbornly stagnant economy.
The job has been made all the more difficult by his being in a coalition government where views on issues of taxation and spending can vary between the Conservative and Lib Dem members.
However, whether or not you agree with what he's done, he seems secure in the role. There is little of the usual speculation about whether the chancellor is either facing the chop, or hoping to unseat his boss in No 10.
Indeed, it seems he can count on the full support of the prime minister, for Mr Osborne's political fortunes are inextricably linked with those of David Cameron.
Like Tony Blair and Gordon Brown, but apparently without the bitter personal feuding, Osborne and Cameron, are now the dominant political double act.
Like Blair and Brown, they entered Parliament in the same year, and were quickly handed key roles in the shadow cabinet, before making a grab for the top jobs - Mr Osborne was Mr Cameron's campaign manager during his triumphant 2005 bid for the party leadership.
But unlike the Labour duo, Cameron and Osborne share a similar background and temperament. Both come from wealthy families - Mr Osborne is heir to a 17th Century baronetcy and to the Osborne & Little wallpaper fortune - and they both went to top public schools before going on to Oxford.
They were even members of the highly exclusive Bullingdon dining club, famed for its hard drinking and bad behaviour, although not at the same time. Mr Cameron is four years older than his chancellor.
Born in May 1971, George Gideon Oliver Osborne went to St Paul's, before studying modern history at Oxford. He was initially known as Gideon, before switching to his less exotic first name as a teenager.
After university he briefly tried to break into journalism, before joining the Conservative Research Department, the traditional training ground for Tory politicians, alongside Mr Cameron.
He entered Parliament at the 2001 general election, retaking Tatton, in Cheshire, for the Conservatives after it was vacated by anti-corruption campaigner Martin Bell.
Married to Frances, a novelist and daughter of former Conservative cabinet minister David, now Lord, Howell, he has two young children, Liberty and Luke.
He is known at Westminster as a sharp political strategist and policy thinker, who has managed to get Mr Cameron out of a number of tight spots over the years.
In the autumn of 2007, his surprise policy announcement of a cut in inheritance tax was credited with frightening Gordon Brown out of calling a snap election that he might well have won.
He pulled off another success during the 2010 election campaign, with an attack on a planned increase in National Insurance, dubbed Labour's "jobs tax".
Finally, when the party narrowly failed to win an overall majority at the 2010 general election, he played a key role in negotiating the historic coalition deal with the Liberal Democrats which put Cameron into 10 Downing Street.
Mr Osborne knows that politics is not all plain sailing, having had to fight off suggestions in 2008 he had tried to solicit a donation for the Conservative Party from Russian billionaire Oleg Deripaska, aboard the aluminium magnate's yacht in Corfu.
He has also faced many calls from Labour to switch to a "plan B" of measures to get the economy growing faster.
But in many ways, Mr Osborne had remained relatively unscathed until this year's Budget.
It made headlines for all the wrong reasons and the chancellor himself has admitted he "got it wrong" on some measures.
Granny tax, pasty tax, the cap on tax relief for charitable donations - all have given ammunition to Labour's argument that the government, and Mr Osborne in particular, are "out of touch".
The Budget was dubbed an "omnishambles" by Labour leader Ed Miliband in the Commons.
Mr Osborne also came under increasing pressure from the opposition over the fact that he spent part of his week on Conservative Party strategy.
The "part-time chancellor" jibes may abate now that the party has brought in Australian Lynton Crosby to run its next general election campaign.
But Mr Osborne is likely to remain the second most influential figure in the party, with a central role in all election campaigns, as long as David Cameron remains leader.
Related Internet Links
The BBC is not responsible for the content of external sites.