Five Somali men jailed for piracy by Dutch court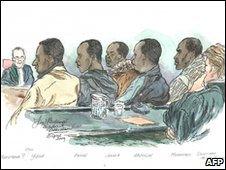 A Dutch court has sentenced five Somali men to five years in prison for attacking a cargo ship in the Gulf of Aden last year, in the first such case to come to trial in Europe.
The men were convicted in Rotterdam of attacking a Dutch Antilles-flagged ship, the Samanyolu.
They were arrested last year when their high-speed boat was intercepted by a Danish frigate.
Pirates attempted more than 200 attacks off the Somali coast in 2009.
The trial is seen a landmark case in the fight against piracy in the Indian Ocean, which has prompted navies from many countries to join an international task force to protect sea lanes.
Pirates have in the past succeeded in collecting multi-million-dollar ransoms.
The five defendants were arrested in January last year after preparing to board the Samanyolu, which had a Turkish crew on board.
The five men pleaded not guilty at the opening of the trial last month, saying they had been on a fishing trip and they had approached the Samanyolu for help.
Prosecutors had requested five years in jail.
Presiding judge Klein Wolterink gave the defendants five-year sentences, saying he had taken account the difficult conditions in Somalia that led the men to piracy.
Nonetheless, he said they had been "only out for their own financial gain and didn't let themselves be troubled about damage or suffering caused to victims".
He added that piracy was "a serious crime that must be powerfully resisted".
One of the defendants told the court the decision was unfair.
"Netherlands don't like Muslim people," Sayid Ali Garaar, 39, was quoted as saying by the Associated Press news agency.
Other Somali piracy suspects are being held in France, Spain, Germany and the US.
Kenya, which holds more than 100 alleged pirates, has convicted 18 since 2007.