Deported Iraqis arrive in Baghdad from Britain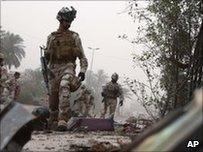 Some 40 Iraqi asylum seekers deported from Britain have arrived in Baghdad, the UK's third deportation in a week.
It took place despite protests from international refugee agencies who had called for the flights to be suspended, saying Iraq is still not safe enough.
The BBC's correspondent in Baghdad says the flights are shrouded in secrecy, and journalists have not been allowed to see or talk to the refugees.
The British government says the parts of Iraq they are returning to are safe.
The plane carrying the deportees arrived at Baghdad airport in the early morning.
The new arrivals were examined by Iraqi officials at the airport, but Iraqi police said they would be released and sent on their way soon.
But last week, a dozen Iraqis expelled from Britain were kept at the airport for a full week because their papers were not in order.
Both the departure and arrival of this latest deportation flight had been kept secret, the BBC's Jim Muir reported from Baghdad.
It was not even known how many failed asylum seekers were on board, though some sources said they were 42 in number, our correspondent said.
He added that international refugee agencies who are watching the deportations with concern have not been told anything about the profiles of those being returned - whether they had criminal records, or had just been unsuccessful in claiming asylum.
The UN refugee agency, UNHCR, has cautioned against deportations because of the levels of violence and human rights violations in parts of Iraq.
It argues this means that refugees should continue to benefit from international protection.
International refugee officials have also criticised what they call the lack of transparency involved in these deportations by the UK Border Agency, which has refused to confirm that the removals are going ahead.
Related Internet Links
The BBC is not responsible for the content of external sites.