IPCC clears G20 protest sergeant Delroy Smellie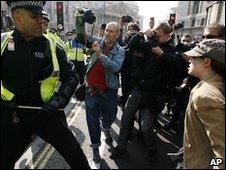 A police officer accused of striking a woman with a baton at a G20 protest has been cleared by the Independent Police Complaints Commission.
Sgt Delroy Smellie was alleged to have assaulted Nicola Fisher, 36, of Brighton, during the protest in Exchange Square, London, in April 2009.
The officer was found not guilty of common assault at City of Westminster Magistrates' Court in March.
Now the IPCC has concluded Mr Smellie has no case to answer.
IPCC deputy chairwoman Deborah Glass said: "Now proceedings are concluded we are publishing our final report.
"Most of the detail is already in the public domain as a result of Sergeant Smellie's trial but, given the public interest in the case, I believe it is important to ensure there is a public record of the investigation and our findings."
While Sgt Smellie will not face disciplinary action, the IPCC has made two recommendations as a result of the investigation.
It said the Met should ensure all items of equipment worn by police should have the officer's shoulder number attached and clearly visible.
The report also said shifts should be planned to give officers eight-hour-long rest breaks as a minimum.
The Crown Prosecution Service had prosecuted Mr Smellie, claiming he lost composure because of Ms Fisher's aggressive behaviour.
It argued he was justified in pushing her back and striking her with the back of his hand but claimed he went too far by striking her with an extendable metal baton.
Ms Fisher was left with severe bruising to her leg.
The incident was later viewed by thousands on internet video sharing website YouTube.
District Judge Daphne Wickham found no evidence had been provided to show use of the baton was not measured or correct.
She said: "It was for the prosecution to prove this defendant was not acting in lawful self-defence.
"The prosecution has failed in this respect and the defendant has raised the issue of lawful self-defence and as such is entitled to be acquitted."
Related Internet Links
The BBC is not responsible for the content of external sites.