Traffic concerns over bridge widening leads to footpath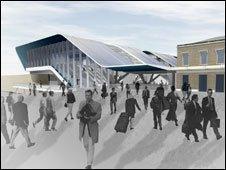 A temporary footpath is being installed under a bridge which is being widened for the £400m revamp of Reading railway station.
The pedestrian crossing at Vastern Road, which runs under the bridge, was removed so the roadworks could begin.
It was replaced with a diversion leading pedestrians around the Vastern Road roundabout but it is understood some people are walking into the road.
The council said pedestrian and motorist safety are a priority.
Richard Willis, Reading's lead councillor for transport and strategic planning, said: "I am pleased that improvements are to be made and hope that pedestrians and cyclists will find the new footpath safer to use."
Network Rail's improvements include five new platforms, an elevated railway and a new station entrance.
Vastern Road railway bridge is being widened to make way for new and longer train platforms, a spokeswoman said.
A row of pedestrian barriers will also be put in place along the east side of Vastern Road to protect pedestrians from traffic underneath the bridge.
Related Internet Links
The BBC is not responsible for the content of external sites.