Canada mission to boost air cargo security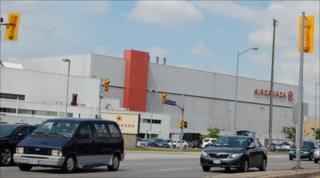 The large, windowless warehouses alongside Toronto's Pearson International Airport are not only dreary; their solid exterior may also belie the risky nature of the airline industry's cargo operations.
While insisting Canada already has one of the best air cargo security systems in the world, the government also says it is inadequate, not just at this airport but across the country.
So in late May, Transport Minister John Baird announced a plan to invest 95.7m Canadian dollars ($92.5m; £61.4m) over the next five years to bring in new technology that will be used to screen cargo before it is loaded onto planes.
"Canada must prepare and remain vigilant," Mr Baird said at the time. "The Air Cargo Security Programme will ensure that Canada's aviation system meets the highest standards in the world."
Confidential procedures
In Pearson's cargo area, just off Airport Road, a continuous stream of delivery vans and large trucks bring the freight to the companies operating here.
About 500,000 tonnes of cargo travels through here each year.
Crates filled with engineering equipment, containers packed with letters and parcels, pallets of food, or boxes of flowers are trucked, hoisted or carried into warehouses before being sorted and prepared for loading onboard aircraft.
A fleeting visit to the site reveals no obvious signs of tight security, at least when compared with the airport's main passenger terminals.
But it is difficult to determine exactly how good, or how lax, the security here might be.
A request for an interview and a tour of Air Canada's cargo operations was turned down.
"We are unable to comment and have refrained from doing so because these are security procedures and, in order for them to work most effectively, they must remain confidential," a spokesman wrote in an email in response to the BBC News request.
Five-year plan
The Canadian government has not released exact details about how or where security will be improved.
However, it is clear that the programme will rely heavily on companies involved in the cargo chain - such as Canada's 7,000 shippers and 750 freight forwarders - to carry out screening using x-ray machines, dogs and explosive tracing devices.
"The programme will ensure that those companies screening cargo have received thorough security checks and that all cargo screening is completed and verified at the highest standards using the most effective technologies," a Transport Canada statement says.
Transport Canada has also revealed that security at large airports will be tightened first.
Initially, security will be improved on flights leaving North America, then on flights going to the US and finally on domestic flights.
The process is scheduled to be completed by 2015.
Cargo in passenger planes
Boarding a flight from Pearson's passenger terminal, the process seems irrelevant. Here, you are carefully examined and your possessions are screened before boarding.
But passengers would be wrong to think plane cargo is transported in dedicated freight aircraft.
The trend in recent months has been for airlines to encourage passengers to travel with hand luggage only and increasingly they utilise the cargo areas of passenger planes to boost revenue.
Currently, some 75% of commercial cargo is transported in aircraft that also transport passengers, according to Mr Baird.
Backlog fears
Any efforts to improve cargo security is therefore likely to be warmly welcomed by the travelling public.
"We must remember that terrorism is not just something that happens somewhere else to someone else," Mr Baird says.
However, the Canadian plan has faced criticism, largely because it seems to allow self-certification by industry players.
This means it would not offer adequate protection, according to Senator Colin Kenny, who argues these operators have commercial interests in ensuring the cargo is carried.
Senator Kenny also believes not enough money has been set aside to pay for security to be sufficiently improved.
But his calls for airports to install dedicated cargo inspection areas to screen freight just before it is loaded onto aircraft have been dismissed by Transport Canada, which believes it would be too slow and cause backlogs.
Global security
But the biggest challenge facing Canada as it sets out to improve air cargo security at home may well lie beyond its own borders.
"Gaps between various countries' security systems leave opportunities for persons with malicious intent," Transport Canada observes.
"In a global transportation system, Canada's security rests on a strong and consistent international aviation security system."
The director general of the International Air Transport Association, Giovanni Bisignani, believes "the solution is a global approach that involves the entire supply chain", though clearly this is proving difficult to push through.
"[Global] cargo security has improved tremendously since 2001 [when procedures were tightened in the wake of the attacks in New York]," he continues, "but the process remains an uncoordinated mess."