PKK returnees on trial in Turkey
By Jonathan Head
BBC News, Istanbul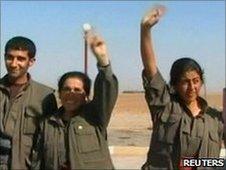 Thirty supporters of the outlawed Kurdish Workers Party (PKK) are going on trial in south-eastern Turkey, eight months after they returned from exile.
The group, which includes eight former PKK insurgents, were initially released by the authorities after returned from Iraq in October.
They said their return was a test of the government's promise of a new approach to the Kurdish conflict.
But the government has since hardened its stance towards the PKK.
In Turkey the slightest show of support for the PKK can, and often does, result in a terrorism charge.
So the decision by the authorities not to prosecute the Kurdish group that came over from northern Iraq was widely interpreted as a gesture of reconciliation.
Now 30 of them have gone on trial in the south-eastern city of Diyarbakir, charged with making propaganda for a terrorist organisation.
If found guilty, they face up to 20 years in prison.
So what has changed since last October?
Back then the government had just launched a bold initiative to win over the Kurdish minority, promising an end to a conflict which has cost 40,000 lives.
The PKK returnees said they would come back to test that initiative, but their triumphant reception in Diyarbakir by hundreds of thousands of supporters provoked a backlash in other parts of Turkey.
The government was accused by nationalist opposition parties of selling out to terrorists.
The Kurdish initiative now appears to have been quietly dropped - no new measures easing restrictions on Kurdish culture have been announced, and hundreds of Kurdish community leaders are still being prosecuted for actions as simple as using their own language.
With Turkish troops now engaged in daily skirmishes with PKK fighters, there seems little likelihood that any further attempts to end the 26-year-old war will be made.