Spain keeper Casillas in spotlight over girlfriend role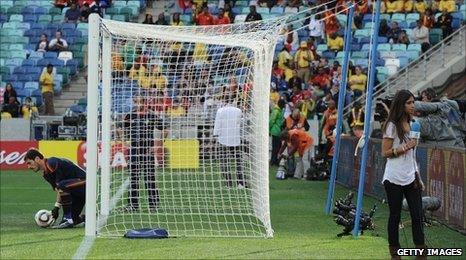 Spanish football fans have been speculating that goalkeeper Iker Casillas may have been distracted by his TV reporter girlfriend.
Attention focused on Casillas after Spain's shock 1-0 defeat to Switzerland in their first game of the World Cup.
His girlfriend, Sara Carbonero, once voted the world's sexiest journalist, was filming behind the goalmouth before the game.
She then conducted a post-match interview with Casillas.
The wives and girlfriends of Spanish players, known as esposas y novias (wives and girlfriends), are barred from accompanying them to the tournament.
Before the World Cup, when it was announced Carbonero would be in South Africa doing her trademark post-match interviews, she dismissed claims she would be disruptive, saying: "Can I destabilise the team? I think it's nonsense."
In Wednesday's match, Swiss midfielder Gelson Fernandes bundled the ball into Spain's goal in the 52nd minute of the game.
Casillas had rushed out to tackle a Swiss forward, but failed to grab the ball, which fell luckily for Fernandes.
Later, Spanish football websites carried comments suggesting that the presence of 25-year-old Carbonero could have affected Casillas's performance.
Casillas said in the post-match interview that the players were "annoyed" at the defeat.
Carbonero, who was voted Sexiest Reporter in the World by FHM USA last year, has been dating the Real Madrid goalkeeper since 2009.
Before their opening match, Spain were rated as co-favourites to win the tournament alongside Brazil.