Network Rail boss Iain Coucher to step down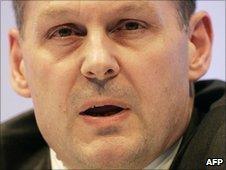 The chief executive of Network Rail, Iain Coucher, is to resign after eight years with the firm.
Network Rail said Mr Coucher's decision was for "purely personal reasons" and that he would stay on until a replacement could be found.
The company, which owns and operates the UK's rail network, said it was a good time for a new person to come in to negotiate the next funding round.
The RMT rail union said his departure would be "celebrated".
Its general secretary Bob Crow said the change was an opportunity for Network Rail to end "the cuts in maintenance, operations and renewals which has thrown hundreds of skilled workers on the dole".
Network Rail chairman Rick Haythornthwaite said: "During his time with the company Britain's railway has been transformed with improved punctuality which is at record levels, safety improved and billions removed from the company's costs through efficiency saving.
"What was a company with enormous problems in 2002 is a strong and stable one today - and Britain's rail users and taxpayers are the main beneficiaries," he added.
The Office of Rail Regulation (ORR), which sets Network Rail's level of public funding, echoed that sentiment saying Mr Coucher had "set the company upon its transformation path to meet the stern challenges ahead".
However, in its recent annual assessment, it criticised some parts of the operator's performance, including the death of three railway workers in the past year.
In addition it said: "We consider that the level of our intervention and the pressure we needed to apply went above what should have been required."
The ORR also said it was "not yet convinced of the efficiency gains the company is claiming".
Mr Coucher earned a basic salary of £605,000 in 2009 and gave up part of his bonus.
Network Rail is expected to reveal this month what its directors, including Mr Coucher, earned in 2010.
Amid speculation that this year will see significant rises in bonuses at board level, the regulator warned that any bonuses would have to be backed up with "clear evidence" of the benefits brought to Network Rail.
Mr Coucher, 48, has been chief executive since 2007. Before joining Network Rail in 2002 he was chief executive of London Underground infrastructure company TubeLines.
Related Internet Links
The BBC is not responsible for the content of external sites.