Rangers keeper Allan McGregor will not face sex charges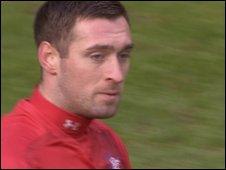 Rangers goalkeeper Allan McGregor will not face charges after police investigated allegations of a sexual assault on a young woman.
The Crown Office has confirmed it will not proceed with the case.
McGregor, St Johnstone player Filipe Morais and former Big Brother contestant Kenneth Tong were questioned by police earlier this year in relation to the allegations.
All three have been cleared and formally notified.
McGregor described the claims made in January as a "vile lie".
He said he was the victim of smears and a blackmail attempt.
A Crown Office spokeswoman said: "A report was submitted to the procurator fiscal at Glasgow concerning Kenneth Tong, Allan McGregor and Filipe Morais in connection with an alleged sexual assault in Glasgow in November 2009.
"After very careful and detailed consideration of all the facts and circumstances following an extensive police inquiry, Crown counsel have decided that there is insufficient evidence to satisfy legal requirements to institute a prosecution.
"We have sought to keep the complainer informed throughout the investigation. The procurator fiscal has informed her of the decision and has offered her a meeting if she wishes to address any questions she may have."