Illegal immigration to EU drops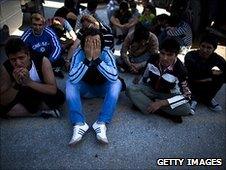 The number of migrants caught entering the EU illegally has dropped sharply, a change attributed to the economic crisis and stricter border controls.
Some 106,200 illegal immigrants were intercepted on EU borders in 2009, 33% down from the previous year, the EU border agency Frontex said.
Greece remains the principal point of entry for illegal immigration, Frontex officials said.
Albanians form the main group of immigrants trying to enter Greece.
Most others come from North Africa, and attempt to get into Greece via Turkey, said Frontex deputy executive director Gil Arias Fernandez.
Lack of employment was a key factor for the drop in numbers, he said.
He also cited "good collaboration from the African countries where immigrants usually depart" including Libya, Mauritania and Senegal.
Mr Arias said most of the people entering Greece planned to continue to other EU member states.
He denied reports that the EU had any imminent plans to use unmanned drone aircraft to monitor the border between Greece and Turkey.
"We are following developments in the industry to see if they can be used, but at this point it is premature to say that Frontex plans to use them," he said.
Related Internet Links
The BBC is not responsible for the content of external sites.